Call On Us for All Sprinkler Repairs in Mesa, Arizona
In Mesa, it is common for pop-up heads and rotors to be the first components in a sprinkler system to need repair. Dirt and debris often causes valves to stick or heads to crack. Most of the time, these heads and valves can be cleaned or replaced without having to have the solenoids and diaphragms replaced. These are routine repairs so our techs carry every major brand of sprinkler head and rotor so they can be replaced immediately, on site.


Our Mesa Sprinkler Repair Technicians Cover:
- Sprinkler Head Repair and Replacement

- Checking and Adjusting Sprinkler Systems

- Raising or Lowering Sprinkler Heads

- Rain and Freeze Sensor Installation

- Sprinkler Valve Replacement

- Coverage Problems

- Pump System Installation and Repair

- Electronic Sprinkler Valve Location

- Sprinkler Controller/Timer Replacement

- Detecting and Fixing Wiring Problems

- Repairing Broken Sprinkler Pipes

- Assembly Replacement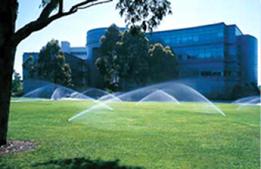 We don't just repair the simple components. As a full service Mesa, AZ sprinkler repair and installation company, we offer a variety of services, from sprinkler repair to spring and fall system tune-ups. Our technicians are also available for general inspections and maintenance calls to keep your system in perfect operating order.


With our electronic valve location and wire detection equipment we can quickly locate underground lines, reducing the time and cost to you.
---
We also provide professional landscaping services for the Greater Mesa area. Feel free to contact one of our Mesa sprinkler repair representatives for more information.
---
We're Proud to Recommend the Best Sprinkler Repair Companies Around!
You'll find other great sprinkler repair specialists in Germantown, Maryland,

San Diego, CA, and Concord, CA.